Why has the Treasury restarted WWI debt repayments?
George Osbourne says £218m will be repayed in February. Better late than never, eh?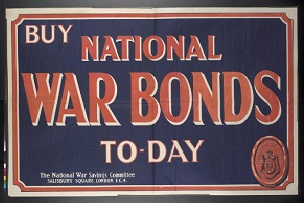 Some might say that waiting nearly a century to pay back a loan is pushing one's luck somewhat. There's only so many times you can tell someone 'trust me, I'm good for it' and expect them to believe you, after all. And yet, today Chancellor George Osboune announced that Britain will finally recommence repayments of our First World War debt.

In February, the Treasury will pay £218m in '4% consolidated' National War Bonds, of the £2bn still outstanding. It will come as little consolation to the tens of thousands of patriotic people who actually bought the bonds in the heat of the Great War, given that they're almost certainly all dead, but it's the thought that counts.

The Treasury says it's resuming repayments on National War Bonds for the first time in 67 years because interest rates are now so low that it can save the taxpayer money by paying back the war debt through cheaper contemporary loans. 'We are only able to take this action today thanks to the difficult decisions that this government has taken to get a grip on the public finances,' George Osbourne said, clearly more than a little pleased with himself.

Is that really the reason the government has decided to pay back these loans? Probably, but it's not why it made the media-friendly announcement, weeks before Remembrance Day. The Treasury consolidates loans all the time, and £218m is small change compared to Britain's annual deficit. Rather, this is another signal from the Chancellor that the Coalition always pays its debts, no matter how long it may take.