Why wellness at work may not be healthy
Employees are increasingly being encouraged by their bosses to make healthier choices. No bad thing, you might think, but all this wholesomeness could turn out to do more harm than good.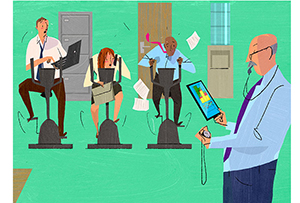 Remember the talent wars? Those heady pre-austerity days of the mid-noughties when companies were falling over themselves to come up with new ways of hanging on to their best and brightest people and dissuade them from jumping ship to a rival firm.
Well, they've been a long time gone but the talent wars are back, and this time they're about much more than mere money or even career development - there's a whole new holistic health front opening up and it's one that no self-respecting employer can afford to ignore. Welcome to the wonderful world of wellness.
What is wellness? Like many a workplace innovation, it hails from the US, where big firms have begun to actively encourage their employees to make healthier lifestyle choices. Studies show that around 70% of Fortune 500 companies have well-developed wellness programmes. Typically these are aimed at helping people stop smoking, lose weight and take more exercise, but wellness may also cross over into the previously no-go areas of psychological wellbeing, thanks to the equally fashionable tenets of mindfulness meditation.