Will it be an 'appy' Christmas for UK retailers?
With mobile sales on the rise, stores are hoping that an m-commerce buying bonanza will prop up Yuletide takings.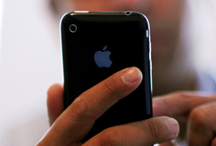 Mobile sales have jumped by 2.9% year-on-year to hit 3.3% in the second quarter of 2011. This is good news for brands, bad news for the high street. Footfall is down and stores are closing all over the shop. But with apps pulling in a decent wedge of cash, at least retailers will be able to keep the lights burning on their in-store nativity scenes this Christmas.
Between high inflation, zero wage increases, uncertain job security and the slow, inexorable bite of government austerity measures, shopping lacks its usual buzz. But, with smartphone apps on the rise, retailers can at least take advantage of sudden urges to splurge while commuting, watching telly or sitting on the loo.
The Interactive Media in Retail trade body has just released data showing that some 24% of consumers have given in to the call of the m-store. 'Within an app, consumers have greater control over setting their own preferences, so more personalisation," said IMRG's Andy Mulcahy. 'Apps can be used offline and can utilise multiple mobile device capabilities, such as GPS, voice, camera, calendar and address book.' This is smart shopping at its most hi-tech.