Will this be the best M&A year ever?
It might not look like it, but 2008 might be the best time to buy that company you've been eyeing up...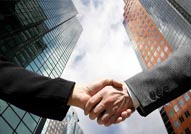 According to a study by consultancy Towers Perrin and Cass Business School, deals done in the year after the peak of any M&A cycle tend to create the most shareholder value. Since everyone seems to think 2007 was the peak of the current cycle (given the way the market has cooled off in recent months), this means there are great opportunities available in 2008 – as long as you have cash in the bank.
The study looked at nearly 40,000 big acquisitions (i.e. $400m to $1.5bn) by public companies over three economic cycles. In 1990 and 2000, the years immediately following the peak of the last two cycles, the shares of the acquiring company were on average 5.4% above the MSCI World Index (a representative basket of global shares) six months after the deal completed. However, those who did deals just before the peak ended up a full 2% below six months later – suggesting that acquirers were doing better-value deals in the year after the market started to cool.
The authors argue that since this M&A cycle has already yielded better results than the last two – in that deals tend to create rather than destroy value – this trend is even more likely to continue. (Although the counter-argument might be that companies have since got a lot better at doing deals, so there'll be less of a correction in the post-peak year…)