Will BT's TV gamble pay off?
The telco says it's signing up customers at a record rate, but football TV rights don't come cheap.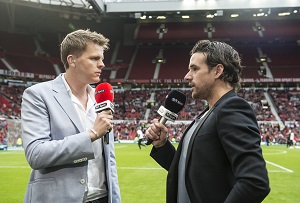 It has been a good week for BT. Yesterday competition regulators provisionally approved the telecoms giant's plan to acquire Britain's biggest mobile network, EE. Today it announced it had signed up a record 106,000 new TV customers in the three months to September.
That jump comes on the back of the telco's snaffling up of exclusive rights to broadcast Champions League football, which used to be split between ITV and Sky. 'We've seen good demand for BT Sport Europe and this has helped us add a record number of BT TV customers in the quarter,' said its chief exec Gavin Patterson.
The three-year deal cost BT £897m, so Patterson will be relieved customers have responded well. But that's a seriously large investment to try to recoup. If, hypothetically, the 106,000 new customers were all that BT managed to drum up off the back of the deal, they would have cost £8,462 each.