Will EasyJet's sky-high dividend soothe Stelios?
The budget airline has increased its full-year dividend by 35.5%, but will that placate its biggest shareholder?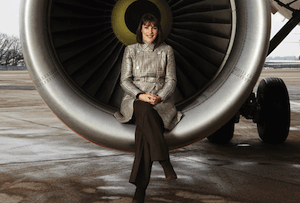 If there's one thing EasyJet chief executive Carolyn McCall knows she has to keep an eye on, it's keeping investors sweet (at least those who aren't founder and largest shareholder Stelios anyway...). And lo, the budget airline flew in a hefty dividend boost as full-year profits soared right to the top of its forecasted range.

The FTSE 100 company plumped up its ordinary dividend 35.5% to 45.4p per share as pre-tax profits for the year to 30th September jumped 22% to £581m. Six weeks ago it had lifted its profits forecast to £575m-£580m after an Air France pilots strike sent passengers scuttling its way.

The number of passengers it flew over the year increased 6.6% to 64.8 million, while seats flown grew 5.1% to 71.5 million and revenues rose 6% to £4.5bn

Investors seemed somewhat disappointed, though, with shares down more than 1% to 1,525p in early morning trading. Perhaps they had been expecting another special dividend, which had meant a total payout of £308m in 2013 as opposed to £179m this year.

McCall needs them on side too, as Stelios can fairly be relied upon to use his 36% stake to stir up trouble. He regularly votes against the airline's executive pay, although after that aforementioned special dividend he was the only shareholder to rebel against McCall's £6.4m package at the AGM earlier this year (74% higher than what she was awarded in 2012). As last year's mega dividend failed to keep him quiet, he's probably not going to clam up this time either.

'EasyJet has opened up clear blue sky between us and our competitors - both legacy and low cost,' McCall said in a statement.

While it's certainly doing well, that's a bit of an exaggeration. Ryanair seems to have recovered its mojo after realising its rival's new be-nice-to-passenger policies had put it on the front foot, and recently boosted its full-year profits forecast to €750m-€770m (£598m-£614m). Maybe EasyJet's investors would rather the Irish budget airline's boss Michael O'Leary went back to slagging off passengers again.