What will a Fed rate rise mean for UK small businesses?
Janet Yellen's decision has major consequences for British firms founded after the crisis, says Jeremy Cook.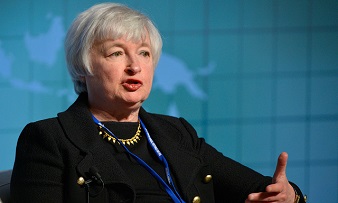 What were you doing in 2006? You certainly weren't fiddling on your iPhone (released June 2007) or listening to Amy Winehouse's 'Back to Black' (released Jan 2008) or watching Lewis Hamilton win his first F1 Championship for that matter (November 2008). Indeed, 2006 seems like a lifetime ago. Greece was just a holiday destination, the Fed was a Swiss tennis player's nickname and most would have thought quantitative easing was a massage technique.
Why is this important? Well, 2006 was the last time any major central bank increased interest rates (aside from the ECB's disastrous experiment and quick retreat in 2011).
Since then the world's financial and monetary policy terms have changed irrevocably, best characterised by an unusual era of rock bottom interest rates. However, come December 16th we are likely to get the first sign that the world may be returning to some semblance of normality with a rise in US interest rates. If and when Janet Yellen and the assembled policymakers of the Federal Reserve's Open Markets Committee pull the lever to begin a normalisation of monetary policy we can say that normality may be starting to return – even if the Bank of England may not necessarily follow suit.