Will fires spell Tata for Nano, the world's cheapest car?
India's Tata Motors denies need for a recall of the Nano, despite reports of three fires.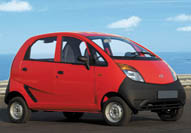 Tata, which proudly launched the Nano, 'the world's cheapest car' earlier this year, may be starting to feel a little hot and bothered. Apparently, three of the cars – which cost about £1,300 in India - have caught fire since the beginning of September.
The Nano was designed to take India's burgeoning middle classes by storm, getting them off their bikes and mopeds and onto four – albeit basic - wheels. With no air conditioning air bags or electric windows and a tiny two-cylinder, 625cc engine, the vehicle is strictly no-frills. It's a full four-seater however, and can manage an impressive 73 miles per gallon.