Will King ends King of Shaves reign after 21 years
The entrepreneur is stepping aside as suitors woo his company.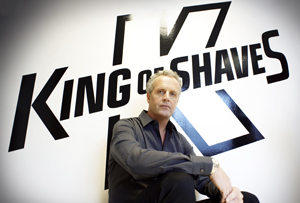 Will King is abdicating the throne of King of Shaves, after 21 years as the brand's most enthusiastic smooth-chinned ambassador.

Operations and innovations director Andy Hill, who has worked with King since 1995, is taking over the 'reigns' (groan…) as the company looks into a possible sale that could value it at more than £50m.

'I always said I wouldn't be the guy who was, "I came, I saw, I shaved, I died",' King, still the company's biggest shareholder and now a non-executive director, told MT. 'I think there's more than me being the face of King of Shaves all my life.'

'I turn 50 next year and I think… you know when it's the right time to let the business develop to the next stage on its own,' he said of his decision, which was first announced on 'The King's Blog' at the weekend.

Boutique investment bank William Blair is looking into King of Shaves' options, after it was approached in June by a tech-focused buyer interested in emulating US razor-through-the-post startups Harry's and Dollar Shave Club, which raised Series C funding of $50m (£31.1m) just last month. Meanwhile, Gillette's sales in the US, where it has 90% of the market, are down $94m or 9.5% year-on-year, according to King.

King refused to elaborate further on the identity of his company's suitor, but emphasised that, in his view, its worth is in its IP. 'The whole business of razors and blades is really about what patents you own,' he said.

'We're in no rush at the business. The executive team are fine and we've got some great shareholders. Everyone wants to make sure the right deal is done at the right time for the right reasons.'

No wonder – King almost sold up to Remington owner Spectrum Brands in 2011 for a reported $40m and was blocked from selling in the US until this year after the sale fell through in acrimonious circumstances.

The razors market has also struggled in recent years with the fashion for facial hair. King was, unsurprisingly, upbeat about that.

'I think we've reached peak beard but we're yet to reach peak moustache,' he said. 'I'm doubtful we'll ever go back to clean shaven across 90% of men, but of course men need to keep their beards tidy and their moustaches groomed, so there'll always be a growth market for brands like us.'
King won't be joining either bandwagon, though. 'I will not become King of Beards after being King of Shaves for 21 years,' he said (a brand that clearly dies hard).

King said he was looking forward to taking a break for a few months while deciding what to do next, after spending £6m and five years developing and patenting the Hyperglide razor, which can be used with just water and was launched it in January.

In an interview with MT at the start of the year, King described the razor as his 'iPhone moment' and said today he was 'delighted' with how it was selling. For now, though, he's leaving the Steve Jobs gig to someone else.