Will the oil price hurt BAE Systems?
The aerospace firm benefits from instability in the Middle East, but cheap oil means defence budgets are tight.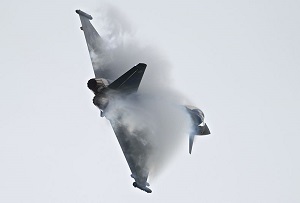 War. What is it good for? Absolutely nothing. Who is it good for? Defence contractors, obviously. Sales at BAE systems rose 7.6% to £17.9bn in 2015 as the Syrian conflict escalated. Orders from the UK and Saudi Arabia both increased, but the latter still refused to make a big order of Typhoon fighters, despite last doing so way back in 2012.
BAE announced a few months ago that it would slow production of the fighter jet as a result, which is largely why underlying earnings before interest, tax and amortisation fell 1.1% to £1,683m. Chief executive Ian King is pinning his hopes on a new order from the Gulf kingdom, saying 'talks are always ongoing, because we have a relationship which is ongoing.'
But Saudi Arabia has some a few cash flow problems right now. Its budget has been gutted by the sustained fall in the oil price, from $110 (£76) a barrel in mid-2014 to lows of $28 last month. The kingdom is currently running a deficit equivalent to 15% of GDP, which has led it to consider selling a stake in the mother of all cash cows, state oil giant Aramco. Hardly an ideal time to splash out on several hundred state-of-the-art jets.