Will the robot revolution bring economic meltdown?
The doomsday scenario of machines taking our work and destroying society as we know it is not new, but The Rise of the Robots cranks up the debate.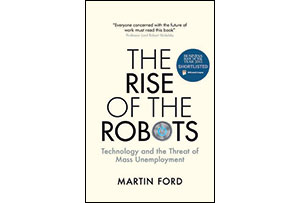 Uber and Airbnb. Self-driving cars. Drones that can deliver everything from shopping to Hellfire missiles. You don't have to be a Silicon Valley veteran like Martin Ford to notice that tech seems to be eating everything else these days.
But even though we can all add our own favourite 21st-century examples to that list, the basic premise of The Rise of the Robots - that machines will destroy not only our jobs but also the established social order - is as old as the hills. It dates back at least 200 years, to the Luddites and Mary Shelley's Frankenstein, both responses to the same basic issue - the fear of unchecked technological progress.
What Ford does well in this his second book on the subject, is take that deep-set historical techno fear, unpack it and play it back to us on the intellectual big screen, magnified and with plenty of hard-hitting stats thrown in to boost the special effects and make sure the volume is turned up to 11.