Will Ryanair's version of TripAdvisor backfire?
Michael O'Leary wants to take on TripAdvisor and Skyscanner.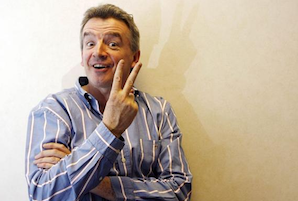 Ryanair, which gets around 80,000 customer complaints a year, wants to take on TripAdvisor by letting passengers rate it on its own website. And, surprise surprise, chief exec Michael O'Leary doesn't actually care what they think.

'TripAdvisor shouldn't really exist as an independent platform, it should be on Ryanair,' O'Leary told the Telegraph. 'We will be establishing user forums, user feedback. What I'm particularly excited about is we are going to put a price comparison website up on Ryanair.'

'Shock, horror, people might be sl*gging off Ryanair. People have been sl*gging us off for 25 years, let them work away, we are not a sensitive airline,' he responded, when asked if he was bothered about the site filling up with negative reviews (MT can't think what sl*gging could be. Slogging? Slugging?).

'I think what you will find is there will be much more positive endorsement coming back from people who have flown with us.'

MT isn't so sure about that, even with new features such as allocated seating and increasing the hold baggage allowance, but what can't be denied is that people are voting with bums on seats. Earlier today, Ryanair reported half-year profits up 32% and raised its full-year forecast for the third time.

That followed two shock profit warnings last year, after which O'Leary finally realised he had to catch up with EasyJet and stop sl*gging customers off (he once told MT customers were responsible for their own 'fuck ups', such as forgetting boarding passes).

But will disgruntled customers being able to make common cause on Ryanair's site give them the strength to ignore the cheap fares? It might drive away a few passengers, but more likely if enough complain about the same thing O'Leary might, for all his don't-care attitude, sit up and take notice (if only to get one over on EasyJet).

O'Leary's real purpose, though, is to get people spending money on Ryanair's site, as it becomes more and more like an online travel agent, offering hotels, car hire and airport transfers as well as its own flights. It probably won't kill off TripAdvisor or Skyscanner and their ilk – even if customers do look at reviews and comparisons, they're more likely to trust third party platforms and use them in conjunction with or instead of Ryanair.

But passengers will still be more likely to spend time on the site and so be tempted into opening their wallets – even if it is after complaining about their last flight.