Will social networking sites ever make money?
Users of Facebook et al resent ads and expect a free service. So how will these sites ever turn a profit?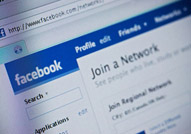 To some, they are the undisputed darlings of web 2.0, spearheading a virtual revolution that will replace the net as we know it with a connected world where status, street cred and even employability are determined not by the old credos of class, geography and education but by the number and quality of nodes on your personal global network. To others, social networks such as Facebook and Twitter are the last word in navel-gazing - online platforms for the swapping of trivial opinions by the terminally self-obsessed.
Whichever side of the fence you prefer to be on, if the grand vision promised by the boosters is to stand a chance of coming even halfway true, the big social networks will have to start doing something that they have so far singularly failed to do - making decent, sustainable profits. The question being asked with growing urgency out in the real world, where the wheels of commerce have yet to become frictionless and still need greasing with plenty of moolah, is: can they ever do so?
Some veterans of the dot.com bubble of the late '90s have their doubts. Michael Wolff, American author of Burn Rate, the most compelling first-hand account of life in Silicon Valley in that frenzied period of boom and bust, is one. 'Social media is based on the internet model, and we are right to be alarmed by that model. It creates moments of intense enthusiasm, but they do not - cannot - last.'