Will the Sun come out for Richard Desmond?
'Dirty' Des says he wants to buy Murdoch's best-selling paper. But we can't see it, somehow.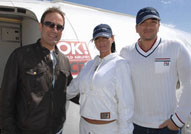 Could Richard Desmond get his inky mitts on the Sun, the UK's biggest-selling newspaper? During an interview on Radio 4's Today Programme this morning, the Daily Express and Daily Star owner suggested that if he was in charge, he could make the tabloid more successful. 'We could run it in a different manner, which would be more efficient in today's marketplace,' he said. When you're a media magnate who has made (at least some of his) fortune in 'adult entertainment', along with two tabloids and OK! Magazine, you clearly know a thing or two about the lowest common denominator. But unfortunately for Desmond, that doesn't mean he'll be able to persuade Rupert Murdoch to sell...
Since Murdoch, the Sun's owner, has given absolutely no indication whatsoever that he wants to part with the paper, Desmond's comments should probably be taken with a hefty pinch of salt. That said, he has apparently spoken to Murdoch 'on numerous occasions' – and it's possible that James Murdoch, who's now technically in charge of the Sun, doesn't share his father's fondness for print media. Equally, Desmond is not the type to shy away from an ambitious deal – while his track record of chronicling celebrity misery and scantily-clad young ladies is ideal for a Sun owner.

Still, if he was serious, there would be a few hurdles to jump. Desmond has already been in trouble with regulators after it emerged in 2000 he had donated £100,000 to the Labour Party just as his takeover of the Express was being approved. And despite his assertions that he would do a better job of running The Sun, the numbers don't necessarily suggest as much. The Express's readership has plummeted in recent years, while the Daily Star's circulation of just 823,025 is less than a third of the Sun's. So Murdoch won't exactly be looking nervously over his shoulder.

No word yet on whether Murdoch would ever be willing to part with the Sun. But his company News International is itself on the acquisition trail: Sky has just bought Virgin Media channels Living TV, Virgin 1 and Bravo. Come to think of it, given Bravo regularly broadcasts late-night films like The Virgins of Sherwood Forest, perhaps there's more chance of Murdoch encroaching on Desmond's turf than vice versa...

But, however improbable this sale, it does highlight an important question. Newspapers everywhere are reviewing their commercial models as they try to react to the growing threat of the internet. Murdoch has just put the Times and Sunday Times behind a paywall, but it's debatable whether he could do the same thing with the Sun. So whoever runs it is going to have come up with new and innovative ways for the paper to make money...

Read Dan Sabbagh's piece on the great paywall debate, from this month's MT, right here.

In today's bulletin:
BP to risk US wrath by not cutting dividend?
Will the Sun come out for Richard Desmond?
EasyJet traffic up as it unveils ash radar
Banks 'have not served enterprise in this country', says Cable
No way to get rid of a manager