Will the UK get its own Mittelstand?
The CBI wants us to go all German, opening bond markets to medium-sized businesses. And, for once, the Government seems to agree...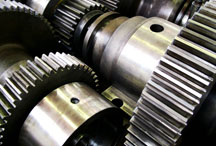 We hear an awful lot about the travails of small businesses – but what of their medium-sized counterparts? According to research from McKinsey, companies with turnovers between £10m and £100m represent less than 1% of all UK businesses, but generate 22% of revenues and 16% of all jobs. This morning, the CBI has said that this 'forgotten army' isn't receiving the recognition it deserves – according to director-general John Cridland, they've 'fallen under the radar of policymakers'. And apparently, if the right policy decisions are made, they could be injecting £20bn-£50bn (or 0.1-0.26% of GDP) into the economy by 2020. Time for the Government to buck up its ideas?

The CBI says it wants the Government to think of medium-sized firms as a sort of UK version of the Mittelstand – the innovative, often family-owned manufacturers that form the backbone of the German economy. But while our medium-sized firms might not contribute quite as much to the economy as they do in, say, France or Germany; the CBI says that with a bit of TLC, they could help to rebalance the economy – their major advantage being that many of them are based in areas where there is high unemployment. In the North-East, for example, where unemployment is 11.3%, medium-sized firms make up 20% of jobs. So you can see why their growth would be an advantage.
How to do it? As usual, it's all about access to finance. The CBI suggests opening the bond markets to medium-sized businesses might do the trick It also wants the Government to create a corporate venturing incentive – ie. encourage big companies to invest in mid-sized ones, particularly if they're part of their supply chain. Other measures it thinks might work include a tie-in with George Osborne's credit easing scheme, as well as a restructuring of entrepreneurs' relief and changes to the research and development tax credit.

What's difficult, of course, is that the Mittelstand has been around for years – and any attempt to catch up with that would be futile. But the sentiment is fair enough – and to give the Government the credit it deserves, this isn't exactly a new proposal. It was only last month that George Osborne mooted the idea of persuading big companies to create closer ties with their smaller suppliers. He even used the word 'mittelstand'. We won't find out how serious he was about those plans until 29 November, when Osborne delivers the second phase of his growth review. But the Department for Business hinted it might be on the agenda. 'The Government is already focused on this as part of the growth review,' it said today. So lots of encouraging words, then. Whether they'll be backed up by deeds remains to be seen.