Will Walker be a runner?
Sir David Walker has finally published his long-awaited recommendations for improving transparency in private equity – but they're not likely to appease all the industry's critics.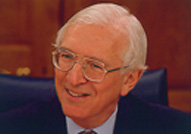 Walker is proposing a voluntary code that UK buyout firms will sign up to on a comply-or-explain basis. This will oblige them to publish more details about their management team, the way they operate, and the profile of the limited partners that invest in their funds – either in the form of an annual report or by website updates. They will also commit to follow established guidelines in the way they evaluate investments, and to spend more time communicating with employees when they buy a company. There will also be a greater reporting burden for portfolio companies above a certain size.
Walker has spent the last few months consulting with buyout firms following the publication of his draft proposals in July. But he was quick to deny this morning that his recommendations had been watered down as a result. "This was not a negotiation," he insisted. "I listened, I had big ears; but there's nothing I wanted to do that private equity firms have argued me out of."
There have been two major changes since July. There's a greater burden of responsibility on the BVCA, the industry trade body, which he wants to play a more proactive role in measuring private equity's performance and improving awareness of its achievements. Back in July he clearly had no confidence whatsoever in the old regime's ability to do this, but with the recent arrival of a new chief executive, "the BVCA has clearly got the message that it needs to up its game," he said.