Win for BT as sports channels prove a hit
The company has scored an early goal against footie rival BSkyB, pushing its share price up by 1.5%.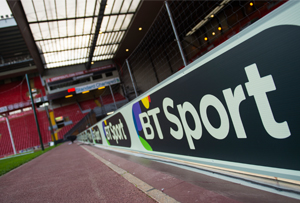 It looks like BT's gamble on sports TV has paid off (so far): the company said this morning that it's signed up more than two million of its customers to its new sports service.

Alas, bringing on the likes of Jake Humphrey and Rio Ferdinand (not to mention, er, Danny Baker) has taken its toll: pre-tax profits including specific items such as restructuring and pension costs dropped by 10% to just under £500m in the three months to the end of September, while revenue stayed flat at about £4.5bn.

Investors clearly aren't bothered: BT's share price rose (which has risen 60% so far this year) more than 1.5% this morning. That presumably had something to do with the fact that interim dividends rose 13% to 3.4p.

The interesting thing is that by the looks of it, its new TV arm (which has cost the company more than £1bn so far), has made customers think twice about dropping it: the number of people switching from BT to other services has fallen to its lowest in five years.

Now the company has ploughed all this cash into presenters, licenses and broadcasting facilities, it's going to have to keep on giving. Earlier this month, Sky reported operating profits down 8% after the cost of Premier League rights rose by 40%.

And you can't under-estimate the power of market dominance: although there's been an early rush of customers keen to try out BT's new service, that's likely to tail off because, essentially, those left over are the apathetic ones. Although the company is expected to bid for Champions League rights later this year – which might entice a few across. It's got a way to go before it can lord it over its rival, though: Sky TV currently has 10.5 million subscribers.

Still – fair play to BT. Its new chief exec, Gavin Patterson, sounded no less than relieved when he said that BT Sport has 'made a confident start and is already delivering for viewers'. Quite.