How to win mega-sized contracts
Too frequently SMEs are put off from tendering for large contracts because of the paperwork involved, says Adrian Chamberlain, CEO of procurement firm Achilles. But if you prepare in advance, it's a doddle.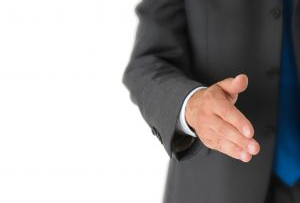 Picture the scene: your sales team has just spotted a tender notice to become a supplier to a large utility or construction company or to a government-backed project. Your sales director needs copies of the company's insurance certificate, business continuity policy and health & safety policies. A flurry of emails goes around the office to locate the documents and before you know it, there are several people with multiple views of where the documents are, who's responsible for them and what needs to be done to update them.

SMEs, particularly in today's tough business climate, are focused on making money and surviving, however, the 'boring' work of documenting your processes and policies needs to be well maintained if your business is to have any chance of winning business from lucrative government-backed contracts.

Many SMEs are fearful of the time and cost of tendering for government or large infrastructure projects. However, there's never been a better time for smaller businesses to get a slice of the pie. In March this year, a group of decision makers in central and local government met as part of the Cabinet Office's 'Driving a Culture of Innovation and Enterprise with SMEs' initiative. The focus of that gathering was to build on the Government's commitment to the inclusion of SMEs in procurement contracts. While 50% of turnover in the UK economy comes from SMEs, they only win about 6.5% of government contracts. The Prime Minister has set out plans for increasing this share to 25%.
It makes sense to starting thinking about what procurement teams in government and highly regulated industries are looking for. The standard documents include company finances, insurance certificates, environmental statements and health & safety policies. Our research shows that 88% of CPOs need evidence of compliance to Quality Standards and 83% to compliance of Health & Safety standards. There are also legal requirements - with 66% of CPOs needing evidence of compliance with the UK Bribery Act 2010.

Of course, no two procurement contracts are exactly the same so SMEs need to be ready to tailor their information for each opportunity. A good starting point is to assign an 'owner' to document what you've got and to keep the information current so that in you're in a good starting position when the tender notice hits your inbox.

The tracking of tender notices can also be hit and miss. A better chance to being on the radar of CPOs from the outset is to be part of like-minded 'communities' that specialise in specific sectors such as construction, automotive, public sector, etc. The benefit to supplier SMEs being part of such a community is that buyers in a particular sector have agreed what questions to ask and how to ask them. The supplier answers the question once, uploads the supporting documents and the information is available to all buyers, so organisations can focus on one quality response and help save time. SMEs should do their research on being part of such groups and the opportunities they present.

One of the biggest blocks to SMEs securing large procurement contracts is their lack of belief in their ability to deliver a good service to a much larger organisation. SMEs often think it's not worth bothering because they'll be up against much bigger players. The reality is different. Evidence from the buyers we work with shows that buyers like to work with SMEs because of their flexibility and the value they offer. With First Great Western, for example, 75% of their suppliers are SMEs. In fact, the rail industry generally has a high proportion of SME suppliers. Research from our rail buyers shows that 77% of their supplier base consists of SMEs.

Finally, SMEs rarely have time to consider the environmental impact of their businesses. This is problematic as buyers are increasingly looking for evidence of Corporate Social Responsibility (CSR) programmes including policies on carbon reduction. If reducing your business' carbon footprint saves you money and makes you more attractive to buyer organisations, this is another important area to consider when thinking about new business opportunities.

Considering how valued SMEs are to large buyer organisations, the time to act is now for forward thinking SMEs to be part of the Government's 25% target.