Witty gets the nod at GSK
One of the longest-running succession battles in the corporate world came to an end on Monday, after unfancied Brit Andrew Witty was appointed chief executive of GlaxoSmithKline.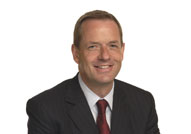 Witty, who has been running GSK's European pharma business since 2003, won out over US head Chris Viebacher and COO David Stout – both of whom were considered more likely to succeed outgoing boss Jean-Pierre Garnier. The three men have been jostling for position for the last two years, with Garnier asked to delay his retirement to give the board more time to choose a replacement.
Witty is not only the youngest of the three (at a youthful 43 years of age) but also the least-known in the US, which is still GSK's biggest and most important market. But his success in Europe, where he has grown sales volumes to combat falling prices, plus his experience in the emerging markets of Africa and Asia, seem to have won the day.
His predecessor will leave with his legacy largely intact. After presiding over the mega-merger between Glaxo Wellcome and SmithKline Beecham in 2001, Garnier cut costs, improved investor relations and radically re-organised the company's R&D efforts – GSK now has more late-stage drugs on its roster than any of its rivals.