More woe for Bolland as M&S splutters
Marks and Sparks' embattled clothing business is failing to meet the demands of changing fashions on the high street, and on Tuesday posted its lowest earnings for four years.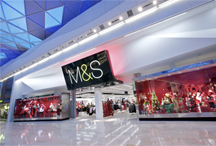 Things are starting to look desperate for the high street stalwart today, after it reported a 6% drop in pre-tax profits to £665.2m in the year to the end of March. This means it has come in well short of City forecasts around the £710m mark. The firm says that most of this decline in profits was caused by a 4.1% drop in sales of general merchandise, which is mainly clothing. The racks of apple-catchers are obviously still not shifting…
The food business saw sales rise 1.7% however, and the international business grew by 4.5%, suggesting the firm is making progress in some areas. Sorting out its image for fashion-conscious Brits however, is the central task now. Chief executive Marc Bolland said: 'We are working hard to get the General Merchandise performance back on track. We have already made progress in our operational execution, and our new autumn/winter ranges have received a positive reaction.'
Bolland sounds a bit like a broken record with lines like this. It's almost exactly the same wording he used last month when Q1 sales had risen just 0.6%. If you don't believe us, check our previous coverage. Unfortunately, Bolland also had to use the statement to announce the departure of Stephen Sharp, the firm's head of marketing. He will retire in February 2014, and be replaced by Patrick Bousquet-Chavanne, who came aboard from Estee Lauder last September.