Wolseley results a mixed bag
Wolseley's latest trading update will have made grim reading for its US staff – another 1300 of them will be out of a job by June. But there was more promising news for homeowners in the UK...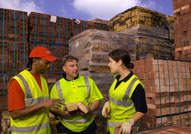 The builders' merchant revealed on Wednesday that it plans to jettison a further 1300 of its US workforce in the first half of next year – that's on top of the 1700 it has laid off in the last few months, and the 6000 redundancies it made last year. Wolseley reckons this will save it £60m a year, which it hopes will stop the rot. With the US housing market going backwards and the sub-prime crisis putting an end to cheap credit, the group has taken a big hit to its bottom line – US profits sunk by about 30% in the three months to October, sending pre-tax profits down 15% for the group as a whole.
However, on the other side of the Atlantic the news was slightly less gloomy. Despite the overall drop in profits, revenues for the UK and Nordic region were actually up by more than a quarter. The credit squeeze has had some impact in Europe, but 'the effect has not been as significant as that in the USA', according to Wolseley CEO Chip Hornsby.
And while the US housing market may be going to hell in a hand-basket (or 'likely to deteriorate further', as he preferred to put it), the Wolseley boss doesn't seem to think that the UK will suffer the same fate. Hornsby admitted there were 'increasing signs that the UK housing market is slowing in response to the lower availability and increased cost of mortgage financing'. However, he said: "Demand for UK housing continues to exceed supply and the market is currently more stable structurally than the US housing market'.