Women on boards: where next?
Lord Davies wants 33% of women on FTSE 350 boards by 2020, but hasn't set a target for executives.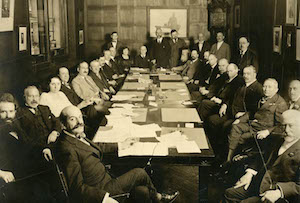 In four years, the percentage of women on FTSE 100 boards has more than doubled from 12.5% to 26.1%. But anyone hoping that Lord Davies, who set the original 25%-by-2015 target, would turn his attention to the more stubborn issue of the lack of female executives will be disappointed today.
Davies' latest voluntary target is FTSE 350 boards should be 33% female by 2020. This is good in some respects, particularly as the FTSE 250 has been lagging its blue chip counterpart, with boards 19.6% female. And, while there were 152 all-male boards in 2011, there are still 15 in the FTSE 250. Gentlemen we're looking at you.
But, as Lastminute.com founder Baroness Martha Lane-Fox pointed out, a target that boards should be a third women isn't exactly striding ahead towards equality.