Women don't want to work full-time
Government efforts to help women back to work are missing the point, a new report claims.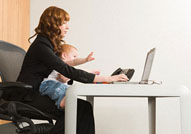 Should the Government be helping mothers to return to the workplace? Not according to new research by the Centre for Policy Studies, which found that almost a third of mothers would not work at all if they had the choice. In fact, of the 4,690 people questioned for the survey, just 12% wanted to work full-time. Author Cristina Odone suggests that most women are actually happier as carers rather than workers – and she claim there's a growing disparity between what the state thinks women want, and their actual aspirations. So is this another sign of the Government being out of touch?

According to the YouGov poll, just 1% of mothers and 2% of fathers with children under five think Mum should work full-time – while nearly half said she shouldn't work at all. This might seem a pretty outdated attitude, but Odone reckons that's only because we've started to value the wrong things – women's progress is measured by metrics like how many make senior management, whereas lots of 'real women' reject a work-based culture and prefer to lead a 'full life' at home with the kids. We need a cultural shift whereby women aren't just valued for their 9-5 output, she says.

By trying to help more mothers into full-time work, the Government is actually adding to this problem, she suggests – because it means the current tax and benefit system can actually penalise 'subversive' stay at home mothers. Instead, it should be focused on what women really want, which is greater flexibility to work part-time and more options when it comes to childcare. (She's also come up with various other recommendations, including NI credits for carers.)

It's very rare indeed that we feel sorry for Harriet Harman here at MT. But we couldn't help feeling a bit sympathetic towards her when she debated this with Odone on the Today programme this morning. After all, the Government has undoubtedly made it easier for mothers go back to full-time work (some of whom won't have the luxury of only doing part-time). You're damned if you do and you're damned if you don't...

On the other hand, Odone raises an interesting question about whether we place too much emphasis on work, as opposed to family. And clearly more and more mothers are keen to work under their own terms (hence why a growing number are setting up their own businesses). So although on the face of it this might look like a rejection of the hard-fought gender war victories of the last few decades, it actually really boils down to flexibility - given women the chance to work when they want, if they want. And that's a perfectly sensible public policy aim.

In today's bulletin:
Unstable UK the world's top financial centre
Women don't want to work full-time
JJB Sports: the story that keeps on giving
Secret Millionaire seeks frustrated entrepreneurs
Don't write people off too soon, with YouTube