Women and ethnic minorities lose out as inequality grows
The latest report on UK inequality is bad news for Labour - but even worse for women and non-whites.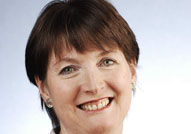 The gap between rich and poor is getting wider, according to the National Equality Panel: its latest Hills Report reveals that the richest 10% of the UK population are now 100 times richer than the poorest 10%. Women and ethnic minorities are also getting a raw deal: although women are better qualified than men (at least up to the age of 44) their hourly pay is 21% less, while ethnic minority families are typically only half as well off as white families. Equality minister Harriet Harman said today that more needed to be done 'to increase social mobility and tackle the barriers that hold people back unfairly'. But since her Labour government promised to tackle inequality head-on in 1997, this is a fairly damning indictment of progress...
Today's figures will make uncomfortable reading for the Government. The richest 10% now have household wealth of £850,000 or more, compared to just £8,800 or less for the bottom 10%. And the contrast with the top 1% - to include bankers, CEOs and so on - is even more stark: they've accumulated an average pile of £2.6m.
The Hills Report also looks at how economic inequalities are related to people's circumstances and characteristics – for instance gender, ethnicity, disability status or even where they live. In terms of gender, the study showed what we all already knew: women are still the second sex when it comes to pay. As in previous studies, it found that girls outperform boys at school and are more likely to enter higher education and achieve good grades. As a result, their salaries rise when they first enter the workplace (albeit not as quickly as their male counterparts) - but this stops at the age of 30, when women's pay actually starts to decline.

Sadly, women aren't the only ones missing out. Members of all non-white minority ethnic groups are likely to be paid less than their white, British colleagues. And that's if they manage to get a job: research shows that those with apparently Asian or Caribbean names are less likely to get interview offers in the first place. One of the main themes of this new report is the devastating and lasting impact that being born into a disadvantaged social class has on a child. For example, it can't be a coincidence that Muslims, who have one of the lowest household incomes on average, were also often found to be disadvantaged in both educational and occupational attainment.

Pretty gloomy stuff, we're sure you'll agree. There are some small signs of progress – 12 years ago, women took home 53% of the income that men do; now the gap has narrowed slightly to 64%. But it's still not enough, and it rather suggests that the Government's various initiatives haven't quite had the desired effect. PM Gordon Brown today described the report's findings as 'sobering'. Particularly in the run-up to an election where you're keen to portray yourself as a voice for greater social mobility...