Women more resilient than men?
A report suggests women are actually better than men at turning adversity into opportunity.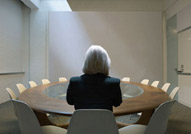 Resilience has been a hot topic at MT lately (so much so, in fact, that we devoted a whole issue to it in February). So we were interested to see some new research from Accenture yesterday that suggests women are considered by corporate leaders to be marginally more resilient than their male counterparts. And since resilience - in the sense of being able to turn challenges into opportunities - is apparently key to keeping your job, that has to be one of the more encouraging stories to come out of this year's International Women's Day...

OK, so the gap between women and men when it comes to resilience - defined by Accenture as 'the combination of adaptability, flexibility and strength of purpose' - isn't exactly a chasm. In a survey of over 500 senior C-suite execs across the globe, the consultancy found that 53% reckon women are 'very to extremely' resilient, while only 51% said the same about men. But it's a gap nonetheless - and an important one, if you believe the 71% who said that resilience was 'very to extremely important' in deciding who to keep and who to fire.

That's good news in the short term, because it presumably means women are slightly more likely to keep their jobs if and when the axe falls. It's also handy in the medium term - since we're likely to be in a state of relative economic limbo for a while yet, characteristics like this are going to be highly prized. And you might also argue that there are positive signs for the longer term too, since Generation Y women (those born after 1979) were considered to be the most flexible of all. So as these (mostly) twentysomethings climb the career ladder, they should be well placed to compete for senior roles.

Better still, resilience isn't necessarily something you have to be born with. It can also come with training - and happily, most of the companies surveyed reported that they haven't cut their women-specific leadership development programmes during the recession (in fact quite the reverse, in many cases). So this up-and-coming female talent is still getting access to mentors, advocates and external coaches who can help them fulfil their potential. This kind of thing will 'increase their resilience and confidence to prepare them to succeed in senior leadership positions,' Accenture reckons.

Most of the stories doing the rounds on this year's International Women's Day have been about how women in business continue to lag behind men, particularly in pay or seniority. So it's encouraging to think that they may actually be at a competitive advantage in an area as important as this.

In today's bulletin:
Pound hammered again as UK trade deficit hits 17-month low
High street sales heat up in February
Kroll and private equity - a match made in heaven?
Women more resilient than men?
Five steps to a stress-free working life