What if women ruled the City?
Would a healthier gender balance have helped us to avoid our recent testosterone-enhanced crash?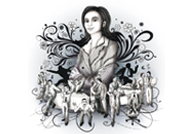 Now that we find ourselves in a recession, it's time to work out what or who is to blame for the mess. Interestingly, much of the thinking is based along gender lines. Some argue that it was an excess of macho tendencies that led to foolish City risk-taking. If there had been more women around to balance out the toxic levels of testosterone in City institutions, then perhaps fewer mistakes would have been made.
It's a radical argument that has stirred up plenty of debate - but is it true? Would the world be a different place if women had been running our financial institutions? MT asked City veteran Nicola Horlick, CEO of Bramdean Assets, for her opinion: 'Women have a totally different approach to life,' she told us.
'They are less concerned about grabbing as much as they can for themselves and have a greater desire to build firm foundations that will endure. I have absolutely no doubt that the world would have looked totally different if women had been in charge.'