Women start to crack glass ceiling
Since Wednesday is Women's Enterprise Day, we were glad to see a new study suggesting that more and more women are earning their place at the top table of British business. But with one in four companies still entirely bereft of female directors, there's clearly plenty of room for improvement.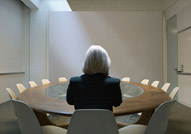 This year the number of women holding directorships at FTSE 100 companies reached three figures for the first time, according to the Cranfield School of Management's Female FTSE report, with 100 women sharing 123 positions between them.
Sadly, that still amounts to a measly 11% of the total number of directorships. And there are still only three companies with female chief executives (Drax, Pearson and Anglo American).
But things do seem to be improving slightly. One in five of all new board appointments last year were female – which may not sound a lot, but it's the highest proportion since Cranfield started running the survey in 2000. Sainsbury's and British American Tobacco are leading the way (30% of their board members are women), closely followed by AstraZeneca, British Airways and ITV – although around 25% of companies had none at all.