Women on top in Iceland
Could the current crisis help to address the gender imbalance in the world of high finance?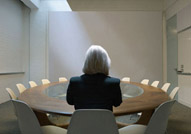 In recent weeks it's been a bit hard to see much good coming out of the current meltdown in the financial sector. But the latest bit of news from Iceland – which of course is likely to be hit harder than most – suggests otherwise. Apparently the government has appointed two women to run the newly-nationalised Landsbanki and Glitnir banks: Elín Sigfúsdóttir and Birna Einarsdóttir have apparently been explicitly charged with changing the macho culture that has driven these once-proud Icelandic banks to the brink of collapse. Could they be the first of many?
Let's face it: banking has never exactly been the most diverse of industries. And many believe the typical working culture is largely to blame: they argue that the emphasis on aggressive risk-taking, and the focus on returns rather than relationships, makes it harder for women to flourish. But it's possible that the recent turmoil in the sector might force a changing of the guard. The (mostly male) powers-that-be may be forced to admit that this 'masculine' approach hasn't really worked – and that it may be time to adopt a more 'feminine' style instead. (Indeed, we hear that a leading woman in the City has been insisting recently that we'd never have got into this mess if the girls had been running the show.)
That certainly seems to be the feeling in Iceland. 'Now the women are taking over,' a spectacularly non-PC government official told the FT. 'It's typical, the men make the mess and the women come in to clean it up.' And the political will is clearly there for the pair to make sweeping changes to the way the banks operate. The paper suggests that Icelanders casting around for someone to blame for their current predicament have settled on young bonus-hungry male bankers, whose 'eyes became bigger than their stomachs.'