Women's pension pots looking lighter
Women are not saving as much as men for their retirement years, research suggests.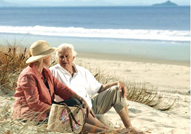 Worries about the recession and escalating levels of debt are preventing women from saving adequately for their retirement, according to Scottish Widows. Its latest survey found that just 47% of UK women are putting enough aside for their future, compared with 59% of men. Women have traditionally found it harder to save for a pension, because they're more likely to take time out to have a family. But it seems the recession is also taking its toll: the number of women who reckon concerns about the economy and job security will prevent them saving in the future has doubled in the last 12 months...

This problem hasn't exactly gone unnoticed among the working female population – in fact 28% of women with a pension who are not of retirement age said they were aware they need to save more, compared with 24% of men. Unfortunately, thus far this isn't translating into increased savings. In 2008, almost half of women aged 18-29 claimed they were likely to save more towards retirement at some point over the next year, but only 22% have actually done so. And while overall pension savings have increased, this is mainly thanks to the contributions of men.

Recession or not, the fact that an increasing number of women are failing to adequately prepare themselves for retirement sounds like bad news to us. The survey found that over the past year fewer women have been contributing to pensions, with 26% of those who could and should be saving for retirement doing nothing of the sort. That's up from 22% in 2008. And we're not just talking about those who see retirement as a distant prospect: only 52% of over 50s are saving enough, down from with 57% last year.

Of course, you might argue that this is perfectly rational: with the value of most pension funds plummeting during the recession, nobody has much of an incentive to use them as a savings vehicle. Equally, we suspect that both women and men have been focusing on more pressing matters, like not being made redundant. And perhaps these figures are also a reflection of the gender pay gap – when you have less disposable income to start with, squirreling away that nest egg is a lot trickier...

In today's bulletin:
Pound hammered again as fuel drags inflation to five-year low
Ryanair comes out fighting after BBC 'hatchet job'
Editor's blog: ITV, the search from hell
Women's pension pots looking lighter
Businesses failing to protect us from ID fraud