Wonga the movie: coming soon to a screen near you
The payday lending company has made a film to show how it has touched customers' lives. Artsy...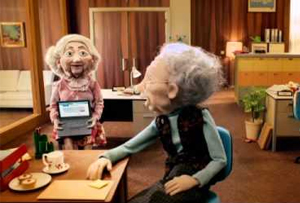 When your brand has been taken to the cleaners by everyone from business minister Jo Swinson to the Archbishop of Canterbury and even Radio 4 legend Nicholas Parsons has given up doing your ads, rehabilitating your good name is a tricky business.

Points to Wonga for thinking outside the box, anyway: it's hired Bafta-nominated director Gary Tarn to produce '12 Portraits', a documentary featuring interviews with 12 of the payday lending site's customers. We can picture it now: the artfully arranged shots, the soft lighting, Nigel from Woking talking emotionally about how a Wonga-funded holiday to Majorca changed his life….

The film - which Tarn has called a 'modern, authentic and relevant portrait of British life' (apparently making it sound artsy was part of his contract) - premieres at London's Curzon cinema tonight.

He added: 'Wonga has over a million customers in the UK and my aim is simply to make portraits of a few of them by focusing on one aspect of their lives the company has touched on.' Apparently he had a 'completely free brief' for the project - which resulted in the completely unprecedented concept of filming a bunch of testimonials from customers…

To be fair to the company, it's at the more responsible end of a spectrum of payday lenders, some of whom have been closed down by the government. Tomorrow, the bosses of some of them will begin to appear before a committee of MPs to explain their lending practices. Perhaps Tarn can make a sequel.