Woolworths to close for good as high street woes mount
All of Woolworths' 807 UK stores are due to be closed by January 5, after Deloitte failed to find a buyer...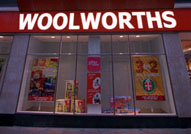 Administrator Deloitte has admitted defeat in its bid to find a buyer for the ailing Woolies – in fact, it said on Wednesday that it had 'not come close' to uncovering a decent offer for the whole business, despite high-profile interest from the likes of Theo Paphitis. As a result, it .has no choice but to start closing stores: barring a last-minute miracle, the first batch will be selling their last pic'n'mix on December 27, while the rest will be shuttered for the final time over the course of the following week. So after 99 years on British high streets, the famous Woolworths brand could be no more in a month's time – and 27,000 staff will be out of a job. Not exactly the most uplifting of Christmas tales...
Deloitte said some buyers were still showing interest in parts of the business, even though nobody's come forward to bid for the whole lot (which is hardly a surprise – if the model didn't work last year, it's hard to see how it will work next year). The high street leases will be the most highly sought-after – apparently the supermarkets and value retailers are queuing up to take these off the administrator's hands, and Deloitte has promised to put soon-to-be-redundant staff in touch with the new owners as and when the sales go through (and 300 are apparently imminent).
However, it's clear that there will be lots of people out of a job. And it also seems pretty clear that Deloitte won't be able to raise enough money to pay off Woolies' huge debt pile even if it does manage to flog all its assets, which means that creditors are going to be left out of pocket too. Plus of course its rapid demise has been devastating to its corporate customers: Woolies' distribution arm EUK provided about 30% of all the CDs sold in the UK, so music retailers like Zavvi have been left high and dry.