Woolworths shares suspended ahead of knock-down sale
Woolworths is negotiating a sale of its retail business - for the price of a bag of its penny sweets...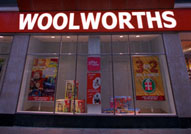 Shares in Woolworths were suspended this morning after the former high street stalwart admitted it was in 'preliminary discussions' about flogging its retail business, possibly for a measly £1. Woolies didn't actually give any details about the potential deal, but a report in the Times this morning suggested its suitor was restructuring specialist Hilco – apparently it could snap up Woolies' 800 high street stores for a nominal £1, while taking on some or all of the company's £300m debt. So perilous is Woolworths' plight that this might be its best bet – but it doesn't bode well for the rest of the high street...
There's no question that Woolworths, once Britain's biggest high street retailer, has become a dog of a business. Its profits have been shrinking for years amid fierce competition from the supermarkets and specialist retailers, and this year's high street slowdown has almost pushed it over the edge (it claimed its 'value' offering would do well in a downturn, but in practice its shops are often not enticing enough to get customers through the door). In September, it reported a loss of nearly £100m for the six months to August 2, while suspending its dividend. Its shares, which have plummeted about 80% this year alone, were trading at less than 4p when they were suspended this morning – so in other words, they're practically worthless.
Woolworths has been toying with various turnaround schemes in recent months; new CEO Steve Johnson recently announced plans to sell up to 120 stores, while scaling back its product selection and web operation (not terribly progressive, you'd have thought). It rejected an offer from Iceland boss Malcolm Walker in August, but its stand-alone prospects continue to look pretty grim – saddled with a £385m loan from Burdale and GMAC, there seemed a good chance that Woolies' near-100 years on the UK high street could be all over by Christmas.