Words of Indian wisdom
Indian companies and their leaders are looking at world-class players as their new benchmark. Gone are the old days of protected economy and insular corporations - today's Indian business leaders have the same ambition and concerns as their western counterparts.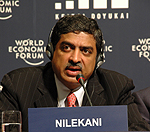 Gathered recently in Mumbai for The Conference Board's annual Global Leadership Conference, business leaders from across the region examined three areas critical to leadership for Indian companies: leadership development, enterprise risk management and talent management.
Nandan Nilekani, CEO and president of Infosys, who featured on the cover of World Business in September, talked about the importance of developing leadership capability and capacity as well as corporate brand with a unique identity and position in the market.
Sajjan Jindal, vice-chairman and MD of JSW Steel warned against Indian companies adopting short-term strategies. "Given that India is in a developing stage and its companies are developing, I think we need to focus on long-term interests," he said.
With an expanding IT sector, a lot of companies also face acute competition and the challenge of creating value in the knowledge industry. Ramalinga Raju, chairman of Satyam Services, believes that Indian companies should take advantage of existing knowledge and innovate on business models "rather than re-invent the wheel".
Finally, companies will be hard-pressed to retain their talent and use their employees' skills. Arun Nanda, executive director at Mahindra and Mahindra, believes that those companies that will succeed are those who will capitalise on their human capital.
Source: Leadership Challenges for Indian Companies
Executive Action No 214 / The Conference Board
Review by Emilie Filou