Words-worth: Going plural
'Sir Stuart Rose,' reported The Daily Telegraph recently, 'has gone plural.' What does that mean?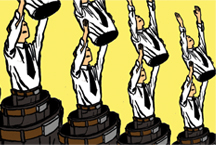 The Marks and Spencer chairman was not, of course, developing multiple personalities, he was merely joining a private equity firm with investments in lots of small companies. 'Plural' originated in the 14th century as the grammatical term still used today. In the 19th century it came to be used more generally: 'plural marriage', for instance, was the Mormons' favoured term for polygamy. 'Going plural' means taking on several different jobs and is associated with Allan Leighton, who famously used the phrase in 2000 when he left Asda and took on a string of non-executive roles. He owns a company, Going Plural Ltd, and claims to have coined the expression. In fact, the phrase is first recorded in Management Today in 1990 in a review of a book by Sir Peter Parker; and the reviewer claimed to have heard the expression 'from his lips' some 20 years earlier. 'Going plural' is invariably associated with top executives taking on multiple jobs; when anybody else does it, it's called making ends meet.