Words-Worth: Tribes
Where does the word 'Tribes' come from?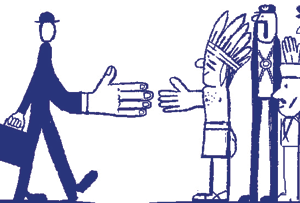 Time for a powwow about business 'tribes'. There are 'tribes' in the marketplace; you need to identify them and supply them with the right warpaint and wampum.
Your teams, groups and departments are rival 'tribes' too; you need to unite them and lead them, like Tecumseh with an expense account. Real 'tribes' claim to be family. These are just groups with their own interests: a subculture, if you like.
A French sociologist, Michel Maffesoli, first identified 'urban tribes' - punks, for instance - in 1988. It's a useful analogy; or it may all be Sitting Bull.