Work: it's getting harder
A survey suggests seven in 10 managers are working harder than they were 10 years ago. That's a slap in the face...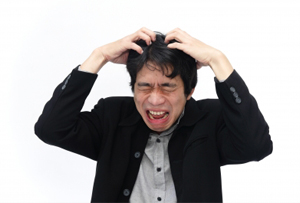 There were we, eulogising on the time-saving properties of technology, and then along comes a survey and ruins everything. Hang your head in shame, the Institute of Leadership Management. Because according to a survey by the Institute, over the past 10 years or so, work has become a lot harder than it was. In fact, 67% of managers report that they have a higher workload today than they did a decade ago. Does this mean the humble BlackBerry has had no impact at all?
According to the survey, 39% of managers believe their work-life balance is worse than it was during the halcyon days of 2001, while a touch under a third said they're less happy at work than they were then. Meanwhile, 46% work longer hours than they did back then, and 51% feel more stressed. On top of that, the average commute has risen by a full five minutes in the past decade, to 49 minutes, while 39% say they now travel 'a lot more' for business than they did before (although just over a quarter said they travel less). Boo, hiss.
The implication is that all this stress has something to do with email. After all, the 1,300 or so managers who took part in the survey said that they receive an average of 40 more emails a day than they used to – while another 5% said it was more like 100. And although, admittedly, 67% said technology had made their job easier, 29% said they wish mobile phones had never been invented (although 27% were more specific – they'd be fine, as long as they never saw another BlackBerry. Which could go some way to
explaining the fortunes of the brand's parent company, RIM
).
Most of this is difficult to argue with. But considering the dire financial situation we find ourselves in – and the fact that most workplaces have been hit by the double whammy of cost-cutting and mass redundancies, those left now need to work twice as hard. And frustratingly, there isn't much businesses can do about that.
It's fortunate, then, that the good people at ILM have sought to distract us all from our misery by drafting in futurologists to predict what the office of the future will look like. Apparently, technology will continue to decrease to the size of 'smart dust' (wouldn't want to be the one who accidentally hoovered up that one), while cordless energy will become the norm. Meanwhile, artificial intelligence will 'provide much of the effort' in many jobs. Sounds exciting, doesn't it? Shame it's dependent on us making it through the next few year first...