Work/ life balance good for the bank balance
Companies that foster a good work/ life balance enjoy a 20% earnings boost, a study claims...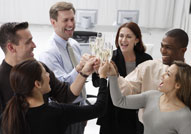 According to the research, by training specialists Morgan Redwood, companies that prioritise work/ life balance enjoyed net earnings per employee of £32,769 – 23% more than the average for those who don't. That's a pretty big difference. And in the current business climate, it raises an interesting question: to what extent is it worth cutting headcount costs if it's going to affect the productivity of the remaining staff?

Morgan Redwood's research largely consisted of talking to HR directors, so we shouldn't be shocked that 93% of respondents said there was a connection between staff wellbeing and business performance, or even that nearly 60% said they were 'very closely linked'. But if this can be boiled down to cold hard stats too, as those net employee earnings figures suggest – although they're gathered directly from the organisations themselves, so independent verification is tricky – that's altogether more surprising.

It would also support the argument that companies shouldn't start ignoring work/life balance just because there's a recession on. The top priority for most of these HR directors was improving productivity; and inevitably this has included headcount reductions: almost half of those surveyed said they'd cut staff in the last year, while one in six plan to do so again in the next 12 months (an encouragingly small number, we thought, particularly as the proportion was even lower for SMEs).

But if dumping more work on everyone else makes them more miserable and more susceptible to stress and ill health, it's perfectly possible that overall productivity might fall, not rise. Insofar as happier workers tend to work harder, these figures are not entirely implausible. 'Work/life balance is not a 'nice to have' when we're in a boom time,' insists MR boss Janice Haddon. 'It can have a fundamental impact on the corporate performance at all times'. (It's also a relatively cheap motivational tool, at a time when most companies can't afford to increase wages.)

On the other hand, perhaps we shouldn't get too carried away. This survey also found that fewer than 20% think work/ life balance makes much difference to staff morale – which is apparently more vulnerable to concerns about the economic downturn, job security, pay and training. So business leaders could legitimately argue that they have more pressing concerns at the moment.
In today's bulletin:
Last chance saloon for Punch as losses soar
Mandy races to Vauxhall workers rescue
Tesco's Sir Terry wants to fix our schools
Work/life balance good for the bank balance
Read The Parent Project, MT's great new blog