Work life devours family dinner times
A third of workers have their evening meal at their desks. Time to cut that workload?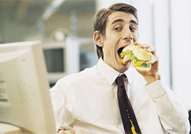 It's already battled ready-meals, tea-time TV and Turkey Twizzlers, but it looks like the humble family dinner time is once again under threat. A new survey has shown that a third of office workers spend so long working that they are 'regularly' forced to eat their evening meals at their desks, while another quarter of employees say they only ever manage to have dinner with their families at weekends. It's another nail in the coffin for work/life balance. And we can't imagine it's particularly healthy, either…

Three-quarters of those polled said they eat at work because of a 'heavy workload' (why do the other quarter do it? because they love their office so much?). A further half said they felt it was 'frowned upon' to leave the office on time to have dinner at home (sounds like a laugh a minute at their places of work). Even flexible workers are feeling the effect, though: 55% of those questioned said even when they're working at home, they eat at their desks, while another 59% said they work at the dinner table, all the way through their meals. Classy.

The survey isn't, perhaps, the most reliable piece of research: commissioned by takeaway website Just-Eat.co.uk, it spoke to a sample of 1,231 of visitors to its website – and we'd guess the average visitor to the site is a professional 30-something who's likely to need to stay late at work. But it raises an important point: namely, the effect the recession is having on families as redundancies force those left in the office to take on a higher workload.

So perhaps this provides an extra ammunition for the Coalition's drive towards family-friendly policies. David Cameron has already talked about a tax break for married couples, as well as revamped maternity (and paternity) leave rules. Is it just a matter of time before businesses are faced with more red tape, this time in the form of a cap on the number of hours an employee can spend at his or her desk? After all, we can't have a Big Society if we spend all our time at work...

In today's bulletin:
Growth down, inflation up - Bank of England adds to gloom
Desmond makes his intentions clear with Five management cull
Old ideas generate fresh profits for Disney
Editor's blog: Getting the UK out of the doldrums
Work life devours family dinner times