Work your way out of a tight spot, with YouTube
How to act when you're up against it, with Butch and Sundance, Han Solo and Top Secret.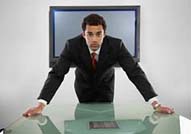 Spot your opportunity. Operating in a recession, it can seem like there's no way out. Outlaws Butch Cassidy and the Sundance Kid find themselves cornered - pursued by the military, holed up on a rock, next to a gorge. Suddenly Butch considers the unthinkable: jumping. Sundance reveals he can't swim. 'Doesn't matter,' says Butch. 'The fall will probably kill you.' It doesn't.
Don't do the obvious thing. Pursued by the Imperial fleet, Star Wars' Han Solo and the crew of the Millennium Falcon fly straight into an asteroid field. His colleagues are saying he should turn around, but Solo does the opposite. C3PO informs him it's statistical suicide; 'Never tell me the odds,' he replies. Sometimes you have to just shut your eyes and take the bumps.
Act decisively. When the resistance fighters in Top Secret find themselves under siege in a castle, their backs against the wall, each reacts in different ways. Only in Hollywood can you act as wildly as Chocolate Mousse and still get away with it. Also, jumping on a grenade to save yourself tends not to work. Have a plan, even if it needs to change.