Workers go postal over Crozier
Just when it looked like things couldn't get any worse at the Royal Mail, the decision to award chief executive Adam Crozier a £500,000 bonus has raised the temperature again at the beleaguered postal service.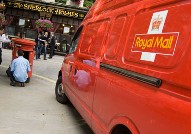 Reporting its results this week, Royal Mail said full-year profits fell to £233 million – a third lower than last year. This was partly due to pension fund top-ups and partly due to the fact that its customers are deserting it in droves – a process that the recent strikes will only accelerate, as chairman Allan Leighton acknowledged. Management has already admitted that the company is over-staffed, inefficient and uncompetitive.
In other words, the business is clearly in a bit of a mess. So it's no surprise that Crozier's £1.3 million package (which includes a £633,000 basic, a bonus of £469,000 and £140,000 in lieu of pension) has sent the unions apoplectic. They're arguing that it took them eight days of strikes to get a 5.4% raise – while Crozier has got a 16% increase without even bothering to attend the talks.
Crozier got the bonus because Royal Mail achieved record service levels last year, with 94% of first-class post delivered the following day. All very admirable, but it seems to be ignoring the bigger picture – after all, it'll be tough to maintain those levels if his entire workforce keeps walking out on strike.