Workers get thanks for nothing
A new survey suggests British employers are getting steadily worse at thanking their staff...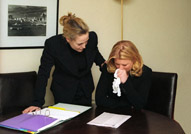 More than a third of UK workers reckon that their bosses have got worse at saying thank you in the last ten years, according to new research from performance improvement business Maritz. 37% said they were getting thanked less often, while just 22% thought things had improved. And although this might sound like a fairly trifling matter on the surface, the survey also suggests that improving your manners will give you a much better chance of improving your staff retention…
Managerial ingratitude is clearly a serious bee in the bonnet for Maritz, which commissioned this workplace survey ahead of National Thank You Week at the end of November (it's sponsoring this orgy of appreciation for the fourth time). And you can see its point: apparently 49% of us get thanked less than once a month – and with the economy rapidly going to hell in a handcart, we can't imagine that figure's going to improve drastically in the coming year…..
If you had any doubt about the importance of those two magic words, consider this: nine out of ten workers think a simple thank-you has a positive effect on morale. What's more, feeling unappreciated is much more likely to drive people to quit than a bigger pay-cheque or better work-life balance – nearly half of respondents cited this as a major reason for them leaving a previous employer. It seems blindingly obvious that employees are less likely to leave if you're nice to them, but lots of managers don't seem to have grasped it yet (if these figures are to be believed, at any rate).