Working grandparents will now be able to take Shared Parental Leave
The policy, nicked from Labour, could be a godsend for parents - especially single ones.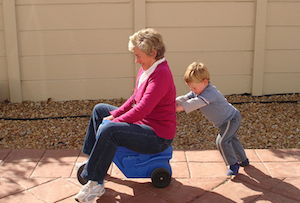 The chancellor is getting the hang of claiming the political centre for himself. Working grandparents will now be able to share statutory parental leave and pay, George Osborne announced at the Conservative conference in Manchester yesterday, six months after dads were finally allowed to share time off.
The policy, which allows grandparents to share in the 52 weeks of leave and 39 weeks of pay, was shamelessly nicked from Labour, whose former deputy leader Harriet Harman proposed it in a 'women's manifesto' before the General Election earlier this year. Anyone would think Osborne has his eye on being prime minister when David Cameron steps down.
But political machinations aside, this looks like good news for parents who struggle to afford private childcare – particularly single ones. Osborne said half of all mothers get help from grandparents when they first return to work after having a baby, but that many would rather stay in work themselves.