A working holiday
Our approach to work/life balance leaves a lot to be desired – apparently 10% of us are likely to spend Christmas Day working this year...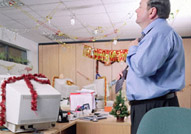 As the last week before Christmas winds its weary way towards a close, most of us will have one eye on the imminent holiday period – a chance to see the family, watch rubbish TV, and stuff ourselves with turkey curry and mince pies.
Most – but not all. According to a new survey work/ life balance by Clydesdale Bank, one in ten of us will miss out on Christmas Day at home – because we'll be at work instead. That means about half a million people in the UK will be in the office fiddling with spreadsheets when they should be in front of the fire watching the Queen's speech. Workers in the East Midlands were the worst offenders, with one in four admitting to spending Christmas Day at work.
Is this an indication that Christmas is no longer as revered as it once was, due to the increasingly multicultural nature of today's Britain? Or is it that people have such fun jobs in Nottingham and Leicester that the prospect of a slap-up feed and a repeat of the Morecambe and Wise Christmas Special just doesn't cut it?