Working mums have more fun
Here's something for parents to remember when they're struggling out of the house to take the kids to nursery, in what feels like the middle of the night, before heading to the office. Mums who go back to work after childbirth are significantly happier than those who choose to stay at home, according to a new survey from the Institute for Social and Economic Research.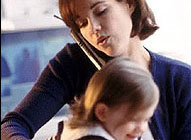 It seems that working mothers feel most content with their lots when they are working part-time rather than full-time, but they are happier across the board than those mums who forego paid employment to look after their children.
Which, given that the number of stay-at-home mums is on the up, seems rather counter-intuitive. Why stay in getting miserable when you could go to work and share the pain with your lucky colleagues?

Here at MT it seems to us that family life is a team effort and that anyone – man or woman - who is used to being economically active and engaged in their work would naturally feel rather bereft were that part of their lives to be suddenly withdrawn from them.
That's not to say that your kids don't need to have you around at least some of the time - simply that as in all things there is a balance to be struck, and that your own needs are an important part of that balance. Happy parents are, after all, more likely to raise happy children.