World Bank predicts rise of global middle class
The World Bank's latest global economic report is optimistic both about prospects for robust growth in the next two years, but also for the long-term trend towards deepening globalisation in the decades up to 2030.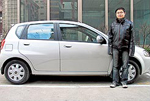 The Bank predicts that the long-term rate of growth in developing countries will rise by a full percentage point over the next quarter century to 3.1%, compared to an average 2.1% since 1980. Rapid growth in the trade in services, much of it originating in the developing world, will drive this growth.
Underlying this improved prospect for growth will be the emergence of a global middle class in developing countries, defined by the bank as those people with per capita income of $4000 or more in today's prices.
While the great majority of people in the developed countries already fall into this category, globally, just 7.6 per cent of the population qualify. But the bank predicts that by 2030 the proportion will have grown to 16% of the total, with China and India leading the way. The report cites China's new consumer class for whom the obsessive object of desire and status is car ownership. As a result the roads of China's major cities are already becoming highly congested.
The report predicts that the growth of this class in developing countries will drive consumption of goods that were previously the preserve of middle-class consumers in the rich world. Such a constituency will also have a political impact by assisting calls for further opening of the economy, says the report.
However, the lesson of India's 2004 general election, in which the liberalising BJP government was thrown out by a rural majority excluded from the benefits of growth, is a warning to other countries about the perils of rising economic inequality and the social tensions it produces.
While inequality between nations is levelling off largely as a result of rapid growth in China and India, according to the bank growing inequality within countries could cause increasing problems for the advance of free trade and open financial markets. It is these that are likely to suffer the backlash of excluded millions rather than changes in technology, which have been a big factor in the rising living standards of the educated and skilled in the global economy.
In addition, another threat to the progress of globalisation stems from the rise of the 'anxious middle', white-collar workers in the richer nations, who have seen their salary levels stagnate as a consequence of the opening up of the global labour market. This has created greater political pressure in the US, for instance, for politicians to protect local jobs and prevent companies exporting jobs to off-shoring centres.
Source:
World Bank Global Economic Prospects Report
Financial Times 13 December
Review by Joe Gill