World Business Green Business Awards
A new era is unfolding in which businesses are using their ingenuity and resources to fight the impact of carbon emissions on climate change, considered by many to be one of the greatest threats facing mankind.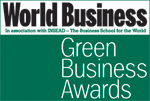 More and more global businesses are recognising that it is imperative to change the ways they operate in order to lessen the effect of global warming.
Without business commitment to adapting to green business, the process of globalisation and economic growth could be put under threat. Many business leaders recognise that they have a social responsibility as well to lead the way and encourage businesses in emerging markets to follow suit.
To embed green policies in business life companies need to find clear ways to link their green business objectives with wider business goals and be able to measure ROI. Special reward structures will need to be established to motivate managers to drive the appropriate change.
Early leaders in the field have already started setting high standards. The purpose of these awards will be to identify the best eco-companies in the world and champion the work they are doing. This will encourage others to follow suit and present clear role models for others.
Many of the activities that are necessary in the production of awards ceremony produce unavoidable carbon dioxide emissions. To mitigate the evening's environmental impact, The CarbonNeutral Company will organise for each tonne of CO2 produced from these activities to be 'neutralised' by channeling money into carefully screened projects which will save one tonne of CO2 somewhere else in the world.
An example of these 'projects' is one in Indian where carbon intensive kerosene (used for lighting) is replaced with low carbon solar panels. By matching CO2 emissions with CO2 savings from verified projects, the result is that the event has a net zero carbon footprint.
World Business has now finalised the short list of entries for its first 'World Business Green Business Awards'.

Our prestigious panel of judges included:
Chair - Luk Van Wassenhove, the Henry Ford chaired Professor of Operations Management, INSEAD
Gerry Acher CBE LVO, Chair of the RSA
Morice Mendoza, Editor, World Business
Richard Reeves, business writer, speaker and consultant
Dr Tom Woollard, principal partner with environmental consultancy ERM
Dr Kieren Mayers, UK & Ireland Reverse Logistics Commercial Manager, Geodis UK
Professor John Chesshire OBE, Honorary Professor at SPRU (Science and Policy Research Unit), University of Sussex, Chairman of the Energy Efficiency Partnership for Homes and Deputy Chairman of the Government's Fuel Poverty Advisory Group, Chair of LGA Climate Change Commission Sasha Herriman, international anchor and reporter, CNN


World Business would like to thank everyone that entered and congratulate the finalists;

Aquados Ltd

Banco Real

BSkyB

BT Group plc

CA Group Ltd

Daikin Airconditioning UK Ltd

Dataserv

EDF Energy

GSH Group plc

Haden Building Management Ltd

Hewlett-Packard GmbH

igloo regeneration partnership

Lend Lease

Lower Mill Estate

May Gurney

Novo Nordisk A/S

Novotel London West

'one' railway

Pall-Ex

ProLogis Developments Ltd

Sierra Corporate Services- Apoio a Gestao, SA

Silverjet Aviation Ltd.

The Clean Energy Company FZCO

Wallenius Wilhelmsen Logistics

The Awards presentation will take place on Thursday 29th November at The Dorchester, Park Lane, London W1. This is a perfect opportunity for you to meet other organizations who are also pioneering green practices. Please contact kate Collins, kate.collins@haymarket.com, directly for a dinner booking form or download the form from www.worldbusinessgreenawards.com.



If you have an opinion on this or any other issue raised on Brand Republic, join the debate in the Forum.