Would a world without managers work?
The author of Holacracy believes we should eliminate bosses. This idea may appeal to some, but in the end it's people who make businesses.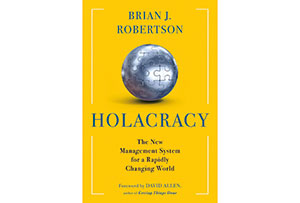 'Imagine there's no bosses, it's easy if you try,' as John Lennon didn't quite sing. A world without managers, top-down organisational charts, and that all too familiar kiss up/kick down behaviour might seem welcome, but is it achievable? Is holacracy the system we have been waiting for?
The term holacracy is derived from the Greek word holos, meaning whole. That word was adapted by the writer Arthur Koestler in his book The Ghost in the Machine, published in 1967. In it he coined the term 'holon', meaning 'a whole that is a part of larger whole'. As an organising concept holacracy replaces conventional hierarchy with a 'holarchy', which is a connection between holons. You may have been told that holacracy introduces a 'flat' structure. This is not really true. There is still a hierarchy of sorts, it is just disguised.
This book - a kind of manifesto - has been written by Brian J Robertson, a former software CEO whose consultancy business HolacracyOne spreads the word about this new approach, for a fee. His most famous client is Zappos, the online shoe and clothing retailer, which publicly embraced holacracy a year ago, but only this spring saw 210 people (14% of staff) leave in a rejection of the new company philosophy.