The world's biggest company
Hands up who's heard of PetroChina? Well if you haven't come across the name before, you should hear it a lot more now. The Chinese state-owned oil giant was valued at more than $1 trillion after its first day of trading on the Shanghai stock exchange, making it the world's largest company by market cap.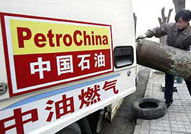 Yes, you read that right. That's one thousand billion dollars – an eye-popping amount, even if the dollar is worth about 10p these days. Not surprisingly (being the first ever to hit this lofty peak), it becomes the world's biggest company by some distance. In fact, it's theoretically worth more than twice as much as the world's second biggest company, Exxon Mobil, which is valued at a measly $487bn.
As always seems to happen with these Chinese floats, there was massive demand for the stock, with the share price almost trebling during the first day of trading. As a result, the company is now valued at more than fifty times its annual profits. It's also trading 150% higher than it is down the road in Hong Kong. Is it any wonder that people are worried there might be a bubble developing in the Chinese stock market?
There are caveats, of course. PetroChina, which is already listed in Hong Kong and New York, only listed another 2.2% of its shares. This was still enough to make it the biggest offering in the world this year (generating proceeds of $9bn for the company) but with relatively few shares available and investors scrambling to get a piece of the action, there was always bound to be a feeding frenzy. Particularly since Chinese floats always seem to be priced fairly cheaply to ensure a first day bonanza. So working out a total value on the basis of this small float is probably misleading.