Is this the world's bravest technology company?
At a time when even UK companies are snubbing London's stock exchanges for the likes of NASDAQ and NYSE, why did Silicon Valley-based WANdisco list on AIM?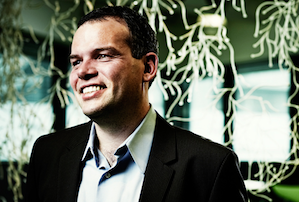 'I don't get it,' says David Richards, chief executive of software firm WANdisco. We're sitting in the Halkin Hotel in Belgravia and I've just asked him why his company, based in Silicon Valley, decided to list in the UK; when even homegrown startups, such as games maker King, are eschewing LSE and AIM for the US stock exchanges.

'I'm convinced they do it because of perceived cachet and because they feel they need to. But if you look at our investor list it's almost the same as any investor list you would find on any decent exchange like NYSE or NASDAQ. Just because you're listed in London doesn't preclude US investors from buying your stock.'

'In fairness, in the UK we do have a dearth of cutting edge tech companies, so it might be because they want to be near their peers - but I hope other companies consider London because if it's just an argument about valuations it's nonsense.'

Richards' defence of the UK stock markets is a rare one, other entrepreneurs aren't so quick to put their faith in the LSE and AIM – Dan Wagner told MT a few months ago there is no way he could see himself floating in London. But Richards has another reason for being listed on a UK exchange.

'I like it because we do have that unique factor – we're one of the very few high growth tech companies listed in London so it gives us a scarcity value too.'

WANdisco's story certainly crosses borders. It was formed over in California, San Ramon to be exact, in 2005, when two would-be venture capitalists were introduced to computer scientist, Dr Yeturu Aahlad. David Richards, one of the two investors in question, is an English expat hailing from Sheffield. With development teams in the US and both Belfast and Sheffield, its technology is used to avoid outages and counts the likes of HP and IBM as clients. Having grown without any investment up until its 2012 IPO, the company raised £15m when it floated (with a market cap of £37m) and just last month, raised a further £19m from investors.

'WANDisco's beginning was one of those classic Silicon Valley stories, I met Dr Aahlad at a drinks party – his wife shuffled him over in my direction – he was the kind of super geek who would walk through a glass window to get away,' says Richards.

'He is a genius, he solved a complicated mathematical problem about how to replicate data over a wide area network [a clue to the company's puzzling name there]. Computer scientists said it was impossible but he spent five years solving it.'

Up until that point, Richards and his old business partner James Campigli were considering setting up a venture capital fund, 'that would invest in the uninvestable.' The complexity of Dr Aahlad's discovery made traditional investment too difficult - however Richards and Campigli decided not to invest in the technology, but to turn it into a business.

'We would have been horrible investors because we're way too operational – so we started the company.'

WANDisco's technology enables the replication of data in real time, according to Richards, this has two implications – it makes collaboration across multiple locations a lot quicker and it also means if a server goes down somewhere, you still have the current data in numerous other places – known as continuous availability.

'We completely eliminate outages,' beams Richards. 'For example I was talking to a bank the other day and if its trading system goes down, there is a cost of $100m per minute – we can stop that.'

There's certainly no shortage of companies that have been hit with the odd outage – just look as NASDAQ's unfortunate series of them; which depending on who you talk to, may have lost it Twitter's IPO.

WANDisco [standing for wide area network distributed computing] applies this technology to two markets, the software development market (HP is its largest client with 50,000 users throughout the company) and big data – something Richards is expecting to take off - thanks in no small part to an acquisition WANDisco made late last year.

'We paid $5m for a company called AltoStor, whose founders were part of the team that invented something called Hadoop while they were at Yahoo. Hadoop is the open source platform for big data – it is the underlying data base for things like Pinterest, Facebook, LinkedIn and so on,' explains Richards.

'There are only four or five companies out there who can develop Hadoop and we're now one of them. We want to be the defacto 'continuous availability' layer for Hadoop.'

Essentially, WANDisco aims to be the company all Hadoop users go to for 'continuous availability.' It's a pretty big call – more than half of the Fortune 500 use Hadoop – and as big data gets well, bigger, that is surely set to rise. Whether you're interested in big data or not, Richards' plans for WANDisco and its technology are impressive.

WANDisco's crucial acquisition of AltoStor would not have been possible without raising money. Until June 2012, WANDisco hadn't taken investment – Richards and his team decided to go it alone, preferring to use the 'strong intellectual property' to grow organically.

'It's a marvellous discipline – before venture capital you had to build products that customers were prepared to buy – we went down that route meaning we had to stay on, or as close to, the product adoption curve as possible'

'We've minted a whole bunch of millionaires in Sheffield. Without Sheffield, as an unfunded startup, this company wouldn't have happened – and I'm not just saying that for the benefit of the UK.'

Richards may have grown up in the Sheffield but he insists it was never his intention to set up a development centre in the Steel City.

'I'd love to say it was all planned that way but it was an accident,' says Richards. 'We were over in London looking to set up a sales office and I was appalled by the cost of lawyers and accountants.

'I went to see an accountant in Sheffield, a friend of the family, and he mentioned his brother was a local computer programmer and a light bulb went off in my head. I started out with a small development team of five and now we have 70 based there.'

It's an interesting combination - born and based in Silicon Valley, with development centres in Sheffield and Belfast, it stands out for more reasons than one. Scarcity value or not, there's no denying its ability to drum up appetite from investors when it needs to. Last month it raised a further £19m, much faster than it anticipated, 'we raised the cash in less than an hour, closing the book as soon as we opened it.'

WANDisco plans to use the money to expand its big data business – starting by hiring more engineers in California.

'There's a lot of work still to do. We're still not close to achieving what we set out to achieve - to become one of the biggest software companies in the world,' he says with a smile.

Which might mean Richards gets to spend less time back in his native Blighty. But what does the entrepreneur miss most about living in the UK?

'Pubs,' comes the answer, without hesitation. 'That's the cultural thing I miss most, especially on the west coast of the US. I'm a northerner, of course I love pubs.'

Well, from what he's told us, there's certainly a few people in Sheffield who will be more than happy to buy him a pint.