'Would you mind not looking at me?' - The best quotes of Philip Green's BHS hearing
The businessman faced the music (and some feisty MPs) over his role in the retailer's sorry state.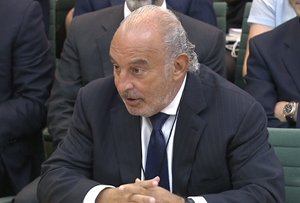 Considering thousands of BHS employees could be out of jobs in the coming weeks, it's not surprising a fair few of them are baying for blood. Fingers have been pointing in all directions. Only last week the retailer's former owner Philip Green called for the resignation of Frank Field, chairman of the work and pensions committee, saying he was biased. Green had (much like Mike Ashley ahead of his highly publicised select committee appearance) initially refused to give evidence, but here we are.
The hearing was highly anticipated – not least because Green has a notorious short fuse. Would MPs be able to get his back up? The short answer to that was yes (notably Conservative MP Richard Graham). Despite stonewalling on many of the big issues, Green said there has been contact with the regulator over Project Thor (Arcadia's proposal to restructure the BHS pension scheme, suspended in 2014).
'We want to find a solution for the 20,000 pensioners', he declared and implied his contribution to fixing the deficit could be outweigh the £275m cost of paying PPF-level benefits. Deloitte's working on the plan and details will apparently be revealed shortly. We'll all wait with bated breath...